RASP gen. 1 & 2
(Registratore Acustico Subacqueo Programmabile)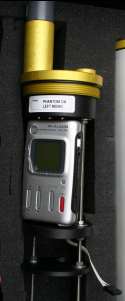 Programmable underwater acoustic recorder
Tech sheets
All technical sheets and descriptions are reported here for future reference. All documents are NOT FOR REDISTRIBUTION.
connectors:
MODU connectors and PIN numbering. We use this numbering, and what is shown here (on the right) is a FEMALE CONNECTOR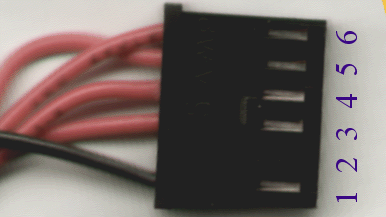 current connectors:
Hydrophones SQ26:
MODU 4pin FEMALE, gold pins:
1: GND/shield
2: not used
3: black wire
4: white wire
see HYDROPHONE WIRING for correct wiring
Microtrack 24/96 & Microtrack II:
MODU 6pin FEMALE, gold pins: 1: POWER switch 2: GND for power switch 3: RECORD SWITCH 4: RECORD SWITCH 5: +4.7VDC BATTERY 6: GND for BATTERY
power switch is replicated shortening pin 1-2 (1.5 second period)
RECORD button is replicated shortening pin 3 and 4
5 and 6 are for power feed (do not exceed 5.xx volts)
pins 2 and 6 are common ground and could be connected together to a different ground (this up to hardware version delivered up to december 2006)
programmable scheduler:
see TIMER board pages
batteries:
version 1.0 4500 mAh NiMH elements, 4 battery packs made of four 1.2V batteries size C
version 1.1
4000 mAh NiMH elements,
4 battery packs made of four 1.2V batteries size C
a battery wiring adapter takes the 4 positives of battery packs (pins 3,4,5,6 on a 6 pin MALE connector from battery packs) into pin 5 MALE on a 6 pin male connector, compatible with microtrack connector.
pin 1 on the battery pack is common negative, converted to pin 6 MALE via the wiring adapter
version 2.0
9000 mAh NiMH elements,
2 battery packs made of four 1.2V batteries size D
hydrophones:
SensorTech SQ06 element, ready to get direct power feed from PIP (plug-in-power), or PHANTOM (via a simple additional circuit)
canister:
oxidized Al 6060