Here are our experience in environmental monitoring:
Our experience in designing new instruments and prototypes:
We have a unique experience in designing customs setups for remote monitoring in harsh environments.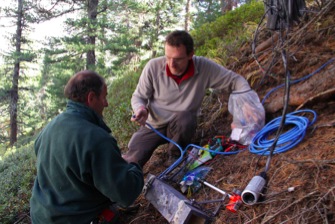 Depending on the on-site available services, we can help you in a range of tasks, from sizing and setting up you photovoltaic system, your data link, your cameras and your needed sensors up to designing and deploying the entire system.
Remote controls and sensing - telemetry
Progettiamo sistemi di monitoraggio, acquisizione dati, controllo remoto e interazione con gli utenti.
Siamo pronti e reattivi nello sviluppo di sistemi sperimentali e flessibili, basati su piattaforme aperte come Arduino e suoi derivati.
Abbiamo esperienza specifica nella progettazione di sistemi di monitoraggio e acquisizione dati in ambienti naturali, difficili ed estremi.
Dominiamo i sistemi di trasmissione dati a lunga distanza, le piccole fonti fotovoltaiche ed eoliche, il mondo delle batterie per l'alimentazione dei sistemi.
Progettiamo e installiamo sistemi di monitoraggio, controllo e sorveglianza audio-video attraverso rete cellulare, anche sotto NAT, accessibili in tempo reale.