Aquarian Scientific Hydrophones
Based on a real piezo-electric sensor, we consider this as the best low-cost equipment on the market for professional use in underwater acoustics.

The Aquarian Scientific AS-1 is a high-performance hydrophone that offers exceptional versatility in a wide range of applications.

The AS-1 can be used as a low power source for underwater signals.
It can be delivered as a calibrated unit, with full calibration specifications. All calibrations are carried out in a third party U.S.Navy Lab.

The Aquarian Hydrophone System is used in a diverse range of applications; each user's listening requirements are different.
No headphones, amplifier or patch cables are included.
Please do not overlook the importance of a good quality headset or amplifier/loudspeaker system to overall system performance.
The Aquarian system, for the AS-1 model, offers a low-noise external preamplifier named PA4.
It is easy to integrate into virtually any recording or amplifier system. The preamp will drive cable lengths up to 30 meters with negligible signal degredation.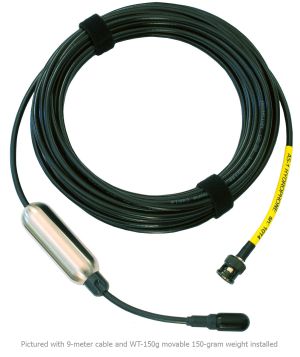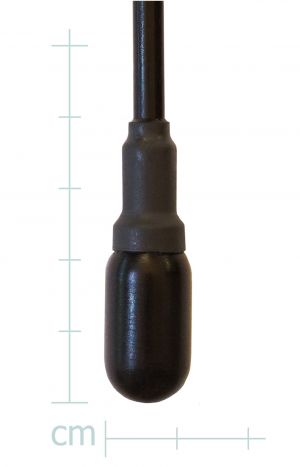 Features on Aquarian Scientific AS-1 series:
• BNC output
• Can be fitted with an optional and recommended PA6 or PA4 dedicated preamp. They both run on standard 48V phantom power.
• High Sensitivity and very low self noise
• Easy to connect to PA, stereo or recording equipment
• Very power-efficient
• Low cost, simple to use and care for
NAUTA stocks part of the catalogue for next-day shipment within Europe.
If we are not able to ship your order within two business days, we will contact you with an expected ship date prior to payment. If you require time-critical express shipment, please write us for verification.
Aquarian Scientific AS-1
Broadband measurement hydrophone
The AS-1 is designed to provide maximum sensitivity in a small size while also providing a linear response in the bandwidth of the highest-quality commercial digital sound recording interfaces. Response is omnidirectional in the human auditory bandwidth, as well as omnidirectional in the horizontal axis at all frequencies (theoretical). Given these qualities, the AS-1 is well-suited for absolute underwater sound measurements in marine and industrial environments. It can also be used as an omnidirectional reference projector.
Use directly with your scope or DAQ device or use with the PA4 preamp and any digital recorder or sound interface for high-quality, low-cost underwater sound analysis. Fitted, breathable EVA case included with cable lengths of 20 meters or less (longer cable assemblies will not fit in case and will be bulk shipped in allowable packaging).
◦
Linear range: 1Hz to 100kHz ±2dB
◦
Receiving Sensitivity: -208dBV re 1μPa (40μV / Pascal)
◦
Transmitting Sensitivity: 140dB SPL re 1μPa, 1Vrms input at 1meter, 90kHz
◦
Maximum Input Voltage: 30V p-p (continuous); 150V p-p (<10% duty cycle, <100KHz)
◦
Horizontal Directivity(20kHz): ±0.2dB
◦
Horizontal Directivity (100kHz): ±1dB
◦
Vertical Directivity (20kHz): ±1dB
◦
Vertical Directivity (100kHz): +6dB -11dB
◦
Operating depth: 200m
◦
Survival depth: 350m
◦
Operating temperature range: -10°C to +80°C
◦
Nominal capacitance: 5nF +/- 15% (plus cable @ 118pF/m)
◦
Output connection: BNC (standard)
◦
Size: 12mm D x 40mm L
◦
Weight (in air): 8g (plus cable @ 28g/m)
◦
Cable length: 9 meters standard. Any length on request.
◦
Cable Jacket: Polyurethane, OD: 4.5mm
◦
Encapsulant: Polyurethane
Aquarian Scientific AS-1


A standard acquisition setup

Ok.
Now you have got your new hydrophone, preamplifier and recorder and need to set everything up and running.

It is quite easy but not completely easy.

Your AS-1 probably came with and additional weight that help keep the cable down in the water column. You see a screwable end (black plastic) that can be unscrewed and positioned when you like it most.
In general 10cm from the hydrophone end is a good position.

You then probably have a preamp (PA4-P48 or PA6), that is need to get a better frequency response and to pull the signal up a bit. You also got a manual of the preamp, and you can find there a scheme of how to set the gain of the preamp itself.
The preamp has two ends: one is a BNC connector that matches the BNC on the hydrophone cable, the other is an XLR connector that matches the microphone input on your recording device.
In order to work correctly the recording device must provide power to the preamp. The preamp works well with what is called PHANTOM POWER. It is a standard used for a million professional microphones. Please make sure your recording device (recorder, digital interface, mixer, whatever it is) can provide phantom power, AND TURN IT ON!

Once that the phantom power is on, the preamp and the hydrophone are connected, you are just a step away from listening to what is received by the hydrophone.
Connect a loudspeaker, your headphones, or whatever you are using to listen (if you want to listen) or turn your real-time spectrographic display and try tapping on the hydrophone with your finger.
Is it working well?
Good.
Time to go out at sea and listen!
AS-1 Hydrophone
Broadband hydrophone
Promoted
Aquarian Scientific AS-1
AS-1, broadband hydrophone for professional applications
Starting from 413.20€
Promoted
PA6 hydrophone preamplifier
Hydrophone preamplifier
65.00€
PA6 Hydrophone preamplifier
Phantom powered preamp for hydrophones.
PA4 Hydrophone preamplifier
Phantom powered preamp for hydrophones.