RemoBat2 - Remote Bat Detector station
Stand-alone remote audio and ultrasonic monitoring station
Designed to detect and record Bats, Rodents, Cetaceans and marine life, environmental acoustic pollution in the higher frequencies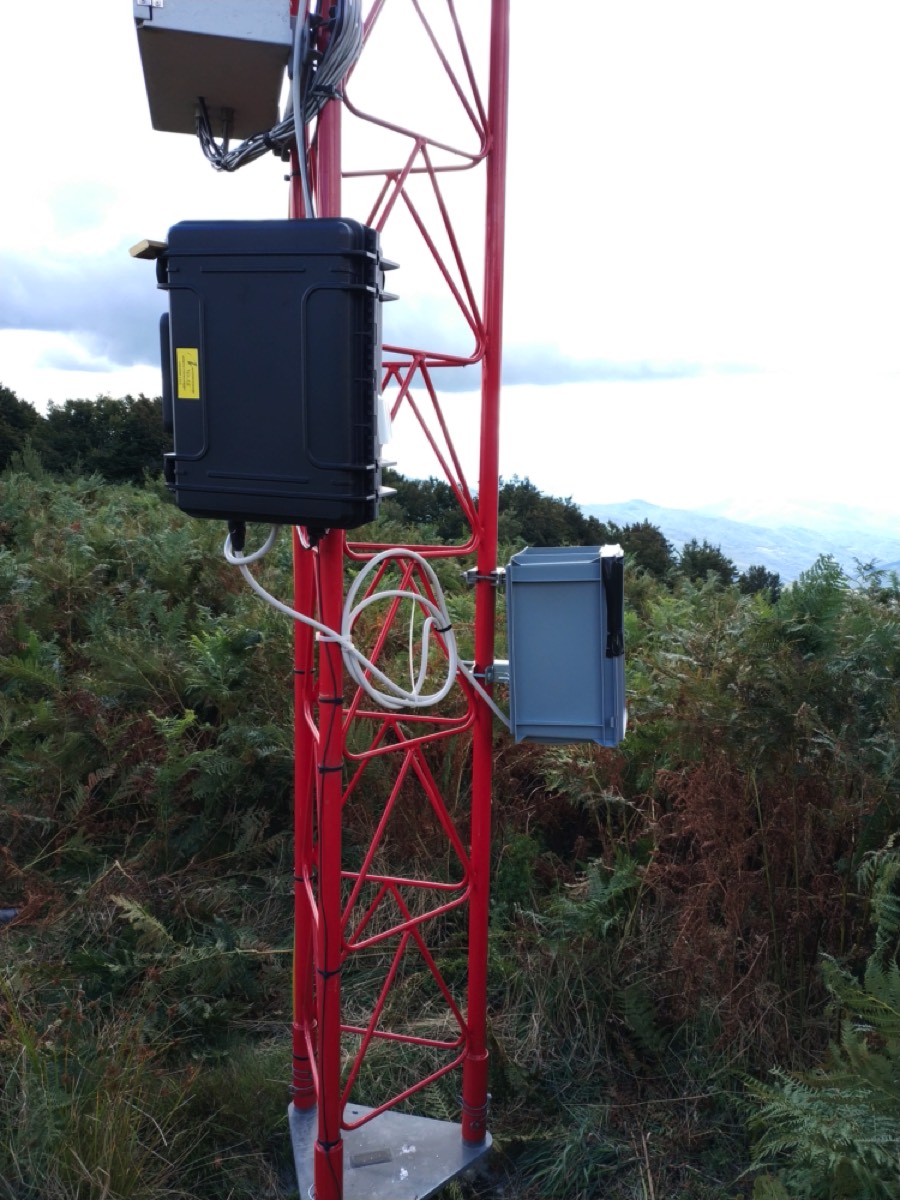 Aimed at acoustic monitoring remote locations, our RemoBat2 detects and records sounds from audio up to 190kHz in frequency.

The system is designed to follow an acoustic sampling scheme repeated every day in the same slots, but can also be reprogrammed remotely.
The unit, stored in a weatherproof plastic case, contains a windows based micro-computer with remote access, features a 4G-LTE radio modem, a solid state memory, a remote control that can be used to switch the unit on and off, a solar panel charge controller, an external battery connector.
The acoustic sensor can be stored in an ancillary small case that can be put at a distance of up to 80 meters.

Being able to store the sensor far from the main processing and storing unit, allows our RemoBat2 to be used for acoustic monitoring over anemometric towers, with the sensor at the height of the rotating blades and to processing unit lower and serviceable.

A second typical installation setup is in bat roosting site monitoring, where the sensor can be used in caves while the processing unit can be set in easily accessible areas and the LTE-4G link can be set out at another 80m distance.
Features

Omnidirectional microphone for audio and ultrasonic frequencies.
The same termination can be prepared to acquire standard microphone signals or hydrophone signals for underwater acoustics applications.

USB 2.0 standard interface with no customized drivers. It uses standard class UAC 1.1 specifications, for total compatibility.
Windows10 computer and storing device, standard and easy to replace swithces and connectors.

Photovoltaic power source, together with a deep-cycle battery, provides energy for repeated daily monitoring cycles.

At night, during lower cell network load, the system automatically uploads the recordings to our online repository, making them available for analysis in the lab.
Applications

Environmental acoustics and bioacoustics in audio and ultrasound domain.
Detection, recording and remote storing of signals up to 190kHz.

Great for environmental impact studies.
Great for bats, rodents, and with hydrophones great for underwater studies also.
Industry applications in remote monitoring of leak detections, engines, and rotational parts.