Sensortech is a Piezoelectric materials manufacturer in Collingwood, Ontario, Canada.

They have been in operation since 1983.
Over the years they have become very adept at developing and manufacturing custom products for customers, and also have one of the most varied core product lines of any Piezoelectric materials manufacturer Worldwide.
They manufacture under ISO9000 a wide range of sensors and conditioning electronics.
We continuously stock their basic system for underwater bioacoustics, the SQ26-08.
All other systems are available on request.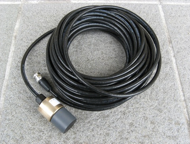 The Sensor Technology SQ26-08
This hydrophone is a general purpose hydrophone ideal for whale watching, full audio-band signal detection, and mobile underwater recording.
This hydrophone has a slick & compact design. It is manufactured by Sensor Technology in Canada.
The SQ26-08 must be used with a recording device or preamplifier that has a bias powered (plug-in-power) microphone input. A custom adapter allows to directly power the internal preamp, to be used with systems not providing the bias power.
Applications: Kayaking, Recreation, Tourism, Environmental science, General cetacean research, Educational outreach programs, Contact microphone, Geophone, Capturing the sounds of the natural underwater environment for eco-art, Adding underwater sound to video recordings.
Frequency Range [kHz]: 0.030 to 30 and over
Transducer Sensitivity* [dB, re 1V/µPa]: -194
Preamplifier Gain [dB]: 25
Effective Sensitivity (Transducer Sensitivity + Preamplifier Gain) [dB, re 1V/µPa]: -169
SPL Equiv. Self Noise at 1kHz [dB, re 1µPa]: to be determined
Power Requirement [Vdc]: 2 to 5
RMS Overload Acoustic Pressure [dB, re 1µPa]: 154
Maximum Operating Depth [m]: 100
Operating Temperature Range [ºC]:-25 to 60
Dimensions [mm]: 70 L x 32 dia.
Shielded Cable Length [m]: standard 10 meters or 30 meters cable includes 3.5mm stereo phone plug
Directionality: omnidirectional below 10kHz
Battery / Connector box: N/A - powered by most of the plug-in powered microphone inputs, such as the Zoom H1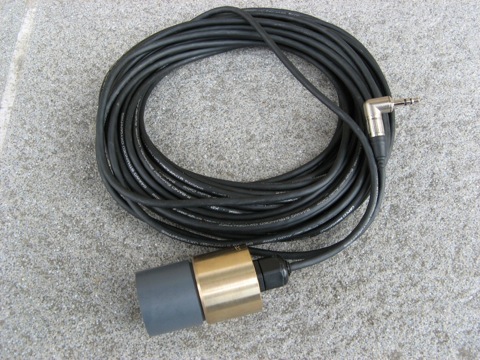 SQ26-08. The mini-jack connector may vary from the one in the picture.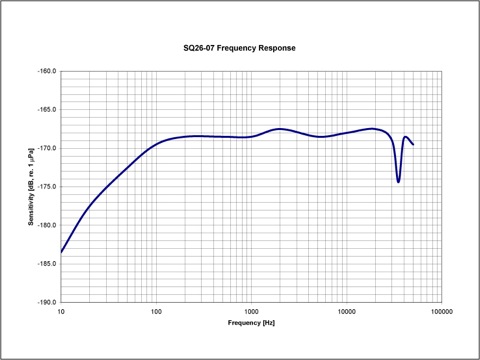 SQ26-08 Frequency Response, tested on series production.